Content area
Choosing the right substrate (surface) for your mosaic.
Choosing the appropriate substrate for your mosaic is essential. Mosaics can be applied to almost anything that doesn't move! (and no ladies, this does not mean your husband!) Artists and hobbyists have covered everything from wine bottles to store mannequins, buildings, bathtubs, and more. You can let your imagination run wild, but there are a few basics you need to consider. Choosing the right substrate (surface or base) to apply your mosaic to is an important first step in creating a successful project that will last a lifetime.
When choosing a substrate, the main characteristic you're looking for is solid without flex. Although many adhesives work with flexible materials, in the end, the surface will not be able to support the weight of adhesive, tesserae, and grout. If the surface has too much flex, the grout will crack, and the tiles will pop off. Surfaces must be stable, solid, free of loose paint, wallpaper, dirt, grease, etc., and must be strong enough to support the mosaic. It may be necessary to scuff the surface of some materials by scoring or rough sanding it first so your adhesive will stick to it.
Another important consideration is where will the completed piece be displayed or used when finished. Inside? Outside? If so, do you live in a climate with freeze/thaw cycles or high humidity? Will it come in contact with water? All these things can affect the surface and may, in turn, have a negative impact on your finished project. The success of any project starts with a good foundation.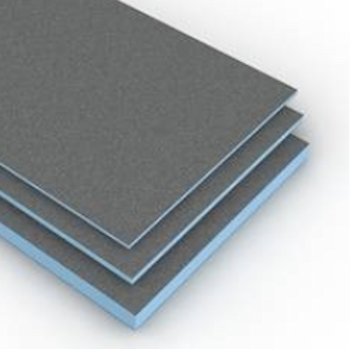 WediBoard - WediBoard is probably the most used lightweight substrate among mosaic artists. It's a German product normally used in the construction industry as an underlayment for bathrooms, showers, floors, anywhere that needs waterproof material. What is it exactly? Wedi board is a high-density foam board covered with a thin layer of fiberglass mesh and a cement coating. It is entirely waterproof and weatherproof, very rigid so it won't warp, and super lightweight. It can be used indoors and out in all climate conditions. Available in 1/4" and 1/2" thicknesses each sheet comes 3' x 5' so you can often get many projects from one piece. It's easy to cut with a utility knife and leaves a smooth edge that will need to be framed or covered.
Please watch our YouTube video to learn how to wrap edges and install a hanging system. It is important to note you need to plan and install any hanging hardware before you begin your project.
You can use almost any adhesive with WediBoard but it was created for use with cement-based adhesives such as thinset. Please make sure you are using the correct adhesive for your project. One of the drawbacks to WediBoard is availability. It is not carried at your local home improvement store. Contact your local tile and flooring store to check for availability.
GoBoard, Durock Ultra Light, Kerdi Board, and other foam core products - Like WediBoard all of these products are lightweight, rigid, water and weatherproof, and temperature stable. All were developed for the building trades for showers and flooring underlayment. All the above cutting, hanging, and adhesive instructions above for WediBoard apply. The upside here is that one or more of these products can be found at most local home improvement stores.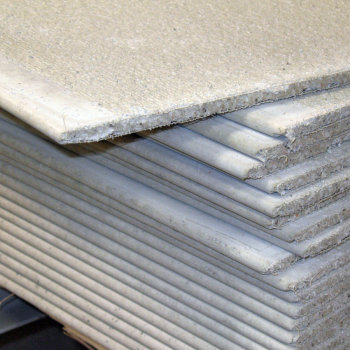 Cement board -This is exactly what it says. It is a cement-based product formed in sheets and reinforced with fiberglass mesh. It is most often used to construct shower surrounds and as a substrate for tile floors. Cement board is weather and waterproof, permanent, and readily available at your local home improvement center. Cement board is heavy and cannot support itself. It must be screwed in place or to another surface that can support it. When cutting the edge are rough and a bit uneven, you will need to plan for covering or trimming these edges. Thinset should be used as the adhesive when working with cement board.
This is not typically a backer that you would use for artwork. It is better suited for construction or surfacing of walls to prepare for installation. You can create large surfaces to cover building walls etc. The seams between each sheet need to be taped with alkyd-resistant mesh and filled with thinset prior to applying your mosaic.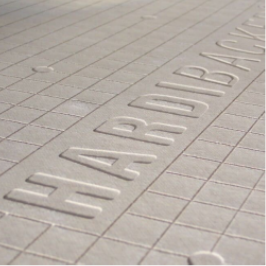 Hardibacker -A brand-name tile backerboard that is easier to cut and lighter weight than cement boards. A composite material of cement and cellulose, it's water and mold resistant and secures well with thinset. Hardibacker cannot support itself when used in full sheets and must be screwed in place to a firm backing. For more information on Hardibacker, go to James Hardie's website (manufacturer of Hardibacker). This product is not recommended for exterior or wet locations.
Wood - Although wood is readily available one must proceed with caution when selecting this as a base material. Wood is vulnerable to changes in humidity or temperature and can warp or crack, thus popping tiles and cracking grout. if you are going to tile a wood piece such as a dresser or table. Make sure that it is properly sealed, free of loose or peeling paint, and sanded to aid in bonding. Wood can be used safely provided it is properly prepared and used in the correct applications.
Wood elements from craft stores (frames, shelves, birdhouses, boxes, etc.) are ready for mosaics but are NOT suitable for outdoor use. Even in the best conditions, wood placed outside will deteriorate over time. When preparing raw wood for mosaic applications we recommend Kilz. It not only seals the wood but also acts as a bonding agent for your adhesive. Do not use sealers like Thompson's water seal, as they leave a waxy finish that prevents adhesives from sticking and may contain chemicals that will react with your adhesive.
Although you may feel treated and exterior grade lumber is prepared for exterior purposes it is also not a good choice. The treatment that it receives is to prevent rot and does not prevent warping.
* Best advice - If you are using wood. Keep it indoors where the humidity is stable, and your piece will not get wet. SEAL IT! Use a high-quality bonding primer such as Kilz.
Plywood - Although wood is readily available one must proceed with caution when selecting this as a base material. Even plywood is vulnerable to changes in humidity or temperature and can warp or crack, thus popping tiles and cracking. It may be used successfully indoors in smaller sizes and should be sealed with Kilz or similar primer. Multi-layer birch cabinet plywood is a good choice for interior artwork.
Glass - Glass makes a great stable surface to work on and if you are using translucent materials you can create beautiful Sun Catchers, etc. Stained Glass makes wonderful tesserae. You can create the look of stained glass windows without the lead, solder, and the fumes. Old windows, table tops, votives, all make great bases for mosaics.